My Blog
Posts for: January, 2019
By Gary W. Machiko, DMD
January 18, 2019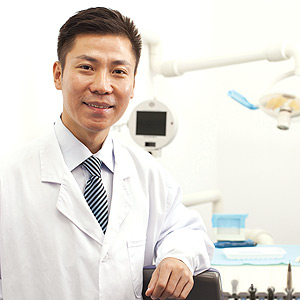 Hopefully, you've developed a long-term care relationship with your family dentist. Better known as a general dentist, these professionals are the central players in maintaining your oral health, and your first stop when you have a problem with your teeth or gums.
But there are times when a particular dental situation calls for a specialist, a dentist with additional training (as much as three years or more in their area of specialty) and the equipment and advanced techniques for your particular need. Here, then, are some of the other kinds of dental professionals your general dentist may refer you to if you need specialized care.
Periodontist — From the Latin peri ("around") and dont ("tooth"), this dentist cares for the supporting structures of the teeth, particularly the gums and bone. Besides treating advanced cases of periodontal (gum) disease, they're also adept at reconstructive and cosmetic gum procedures or the placement of dental implants.
Orthodontist — Although known commonly as the "braces" doctor, orthodontists have a much wider concern: the interaction and alignment of teeth and jaws. With a keen understanding of growth and development, orthodontists can employ a number of treatments, including braces, to bring teeth into better positions that will improve function and appearance.
Endodontist — Teeth damaged from disease or injury may need treatments that involve the interior of the tooth — the pulp and root canals. While your general dentist can perform basic root canal treatments, an endodontist has the added knowledge and equipment to treat more difficult cases.
Prosthodontist — As with a prosthetic limb that replaces a lost arm or leg, prosthodontists specialize in replacing lost teeth (prostho means "artificial"). Prosthodontists can skillfully create functional, life-like dentures, as well as natural tooth and implant crowns to replace portions of visible teeth.
Oral Surgeon — These dentists are skilled in the diagnosis and surgical treatment of conditions involving the head and neck (the "maxillo-facial" region). They often work in consultation with general dentists and other specialties for treating complex mouth conditions. Besides tooth extraction and other dental procedures, oral surgeons can also surgically correct jaw alignment or treat trauma to the face and neck area. They also place grafts to stimulate bone growth for future implants.
If you would like more information on how dental specialties can benefit your health, please contact us or schedule an appointment for a consultation. You can also learn more about this topic by reading the Dear Doctor magazine article "The Dental Universe."
By Gary W. Machiko, DMD
January 08, 2019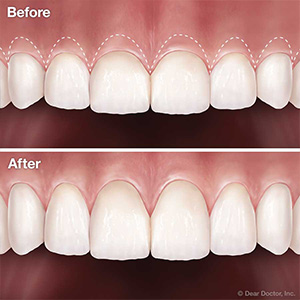 While we often associate tooth decay with cavities forming in a tooth's visible or biting surfaces, the occurrence of this all too common disease isn't limited to those areas. Cavities can develop in any part of a tooth exposed to bacteria.
Gum recession, the shrinking back of the gums from the teeth, can cause such exposure in areas normally covered by the gums. Because these areas are usually more vulnerable to infection when exposed, cavities can develop at or right below the gum line. Because of their location it can be difficult to fill them or perform other treatments.
One way to make it less difficult is to perform a crown lengthening procedure. While the term sounds like we're increasing the size of the tooth, we're actually surgically altering the gums to access more of the affected tooth surface for treatment. It's typically performed in a dental office with local anesthesia by a general dentist or a periodontist, a specialist in the gums.
During the procedure, the dentist starts by making small incisions in the gums to create a tissue "flap" that can be lifted out of the way. This exposes the underlying bone, which they then reshape to support the gum tissue once it's re-situated in its new position. The dentist then sutures the gums back in place. Once the gums heal, the decayed area is ready for treatment.
Crown lengthening is also useful for other situations besides treating cavities. If a tooth has broken off at the gum line, for example, there may not be enough remaining structure to support a crown. Crown lengthening can make more of the underlying tooth available for the crown to "grab" onto. It's also useful in some cases of "gummy smiles," in which too much of the gum tissue is visible in proportion to the tooth size.
Because crown lengthening often involves removing some of the bone and is thus irreversible, you should discuss this procedure with your dentist in depth beforehand. It could be, though, this minor procedure might make it easier to preserve your teeth and even make them look more attractive.
If you would like more information on crown lengthening, please contact us or schedule an appointment for a consultation.