My Blog
Posts for: April, 2017
By Gary W. Machiko, DMD
April 15, 2017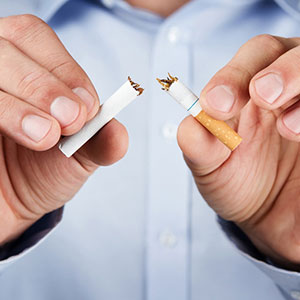 There are plenty of good reasons to quit smoking. Here's one more if you're considering replacing a missing tooth with a dental implant: smoking increases your risk of implant failure.
By and large, dental implants are the most reliable and durable tooth replacement option, with more than a 95% success rate after ten years. But that still leaves a small percentage that fail — and twice as many of those failures are in smokers than in non-smokers.
To understand why, we need to look at how smoking affects oral health. Besides burning and thickening the surface skin cells inside the mouth, inhaled smoke can also damage salivary glands and lead to dry mouth. Reduced saliva creates an environment friendly to bacteria, which increases the risk of infection and disease.
The nicotine in tobacco also restricts the myriad of blood vessels that course through the teeth and gums. The resulting reduced blood flow deprives teeth and gums not only of nutrients but disease-fighting antibodies. The mouth takes longer to heal and can't fight infection as well.
The key to an implant's success lies with its titanium post imbedded in the jaw bone to take the place of the tooth root. Titanium attracts bone cells, which grow and adhere to the post over a period of time and create a stronger hold. But the health effects of smoking inhibit this process. Furthermore, slower healing caused by smoking increases the risk of infection, the number one cause of early implant loss.
If you want to improve your chances for a successful implant — not to mention improve your overall health — you should quit smoking. The prospect of a dental implant could be a useful incentive to enroll in a smoking cessation program.
At the very least we suggest you stop smoking a week before implant surgery and then for at least two weeks after to help promote good healing. And you should pay close attention to your daily oral hygiene — brushing and flossing at least once — and regular, semi-annual dental visits for cleanings and checkups.
Smoking can harm your health. If you're considering an implant, it could also harm your chances of a successful outcome.
If you would like more information on dental implants, please contact us or schedule an appointment for a consultation. You can also learn more about this topic by reading the Dear Doctor magazine article "Dental Implants & Smoking."
By Gary W. Machiko, DMD
April 03, 2017
How dental implants from your Pittsburgh dentist can make your smile whole again
Are you embarrassed to smile because you have gaps in your smile due to tooth loss? Do you have difficulty chewing the foods you love? Do you want to have a whole smile again? If you answered yes to these questions, it's time for you to consider the state-of-the-art way to replace teeth, dental implants! Dr. Gary Machiko in Pittsburgh, PA, wants to share the facts about how dental implants can save your smile.
Dental implants offer benefits unmatched by conventional tooth replacement methods. Consider:
Dental implants are embedded in bone and are completely stable; they won't move around like partials or dentures can.
Dental implants look just like natural teeth, and you can brush and floss them normally; unlike dental bridgework, you don't have to use floss threaders.
Dental implants are a conservative treatment because Dr. Machiko only treats the area of the implant; with dental bridgework, the adjacent teeth have to be prepared and crowned as support for the bridge.
Your dental implants will never decay and are stain resistant, making them almost worry-free! They also boast the highest success rate of any surgical implant, over 95 percent, according to the American Academy of Oral & Maxillofacial Surgeons.
When you choose dental implants from Dr. Machiko, your treatment begins with detailed computer imaging and high-tech 3-D scans along with a customized treatment plan designed to give you an excellent result and a smile that is uniquely yours. Dr. Gary Machiko's background and experience allow him to complete your dental implant procedure from placing of the implant to the final restoration, your dental crown. He is also dual degreed, having both a dental degree and a mechanical engineering degree which offers is patient's the advantage of precise measurement and placement of their dental implants.
Your implants are placed during a simple in-office procedure. After your tissue has healed and bone has fused with the implants, your beautiful implant crowns are placed. You have a dazzling, natural-looking, complete smile thanks to dental implants!
To see amazing before-and-after photos of Dr. Machiko's patients, please visit the smile gallery page on the website at http://www.drmachiko.com/gallery.html.
Whether you want to replace a single missing tooth or multiple missing teeth, dental implants are the clear choice to make. Don't let your smile suffer from missing teeth. For more information on the magic of dental implants, call Dr. Machiko in Pittsburgh, PA. Call today to fill in those gaps with dental implants!