My Blog
Posts for: November, 2014
By Gary W. Machiko, DMD
November 19, 2014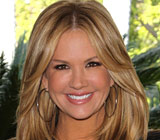 When it comes to sensitive gums during pregnancy, Nancy O'Dell, the former co-anchor of Access Hollywood and new co-anchor of Entertainment Tonight, can speak from her own experience. In an interview with Dear Doctor magazine, she described the gum sensitivity she developed when pregnant with her daughter, Ashby. She said her dentist diagnosed her with pregnancy gingivitis, a condition that occurs during pregnancy and is the result of hormonal changes that increases blood flow to the gums. And based on her own experiences, Nancy shares this advice with mothers-to-be: use a softer bristled toothbrush, a gentle flossing and brushing technique and mild salt water rinses.
Before we continue we must share one important fact: our goal here is not to scare mothers-to-be, but rather to educate them on some of the common, real-world conditions that can occur during pregnancy. This is why we urge all mothers-to-be to contact us to schedule an appointment for a thorough examination as soon as they know they are pregnant to determine if any special dental care is necessary.
Periodontal (gum) disease can impact anyone; however, during pregnancy the tiny blood vessels of the gum tissues can become dilated (widened) in response to the elevated hormone levels of which progesterone is one example. This, in turn, causes the gum tissues to become more susceptible to the effects of plaque bacteria and their toxins. The warning signs of periodontal disease and pregnancy gingivitis include: swelling, redness, bleeding and sensitivity of the gum tissues. It is quite common during the second to eighth months of pregnancy.
Early gum disease, if left untreated, can progress to destructive periodontitis, which causes inflammation and infection of the supporting structures of the teeth. This can result in the eventual loss of teeth — again, if left untreated. Furthermore, there have been a variety of studies that show a positive link between preterm delivery and the presence of gum disease. There has also been a link between an increased rate of pre-eclampsia (high blood pressure during pregnancy) and periodontal disease. Researchers feel this suggests that periodontal disease may cause stress to the blood vessels of the mother, placenta and fetus.
To learn more about this topic, continue reading the Dear Doctor magazine article "Pregnancy and Oral Health." And if you want to read the entire feature article on Nancy O'Dell, continue reading "Nancy O'Dell."
By Gary W. Machiko, DMD
November 04, 2014
Tooth decay is a primary cause of tooth damage and loss, with annual treatment costs in the billions of dollars. It arises mainly from oral bacteria, which proliferates in the absence of effective oral hygiene. There are, however, other risk factors besides poor hygiene that could make you more susceptible to this disease.
Many people, for example, have genetically inherited deeper grooves (fissures) and depressions (pits) than the average tooth anatomy. These may be harder to reach with a toothbrush and can become havens for bacterial plaque. Others may have health conditions that indirectly affect the mouth: bulimia or anorexia, psychological conditions that involve self-induced vomiting, or GERD, gastro-esophageal reflux disease, in which stomach acid could regurgitate into the mouth. These conditions could result in a highly acidic mouth environment.
Some medical and — ironically — dental treatments could also increase your tooth decay risk. Some medications can reduce saliva flow, which inhibits acid neutralization and re-mineralization of enamel. Retainers, braces, bite guards or other dental appliances may also reduce the saliva wash over teeth, and can make brushing and flossing more difficult.
There are also risk factors that result from our lifestyle choices. Eating a lot of foods rich in sugars and other carbohydrates, for example, or acidic beverages like soda, energy or sports drinks contributes to the rise of bacteria in our mouths.
There are ways to reduce the effects of these risk factors. In addition to a daily habit of effective brushing and flossing, you should also include semi-annual cleanings and checkups at our office a part of your routine. If you have genetic, medical or dental issues that are out of your control, we can discuss solutions, such as alternatives to medications or different techniques for cleaning around dental appliances. For lifestyle-related factors, you should consider removing the habit or modifying it: for example, snacking at specific times or drinking acidic beverages only at mealtime.
While tooth decay is a serious, destructive disease, it is highly preventable. Addressing all your risk factors, not just hygiene, will reduce your chances of having it.
If you would like more information on tooth decay prevention, please contact us or schedule an appointment for a consultation. You can also learn more about this topic by reading the Dear Doctor magazine article "Tooth Decay: How to Assess Your Risk."